Internal restoration

Some pianos can be "renewed" by replacing some worn parts. Other pianos need most parts repaired or replaced to return them to their original condition.
External restoration
Age, improper moving, housekeeping, daily wear & tear, and occasional accidents may have caused your piano to look less than beautiful. Many defects can be touched up, while other pianos need to be totally refinished.
Before and after piano restoration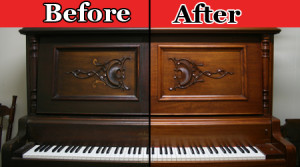 Whatever the need, we can help. Our refinishing process includes:
Repair and refinishing of all wooden parts
Polishing all brass parts
Polishing keys
Replacement of the decal on the sound board (if rebuilding) and the fallboard (key cover)We don't want your beautiful refinish to return home with old looking hardware. Quality work takes both time and quality products. Don't be fooled by those who say they will refinish your piano really cheap. Be sure to find out what is included in refinishing when you compare prices. We always have pianos in progress and invite you to view our work.
Have you recently had a disaster?
We can restore even the worst damage to your piano.
After the Joplin tornado Carmi Hinman walked through the rubble that was her home. Her piano was crushed in the rubble and badly needed restoration.
Below are the pictures of the rubble and the mess the piano was in: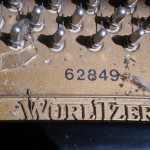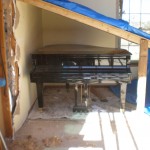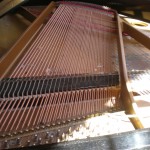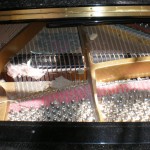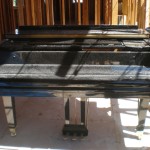 Carmi called Bill Miller Piano and asked them if they could restore the piano. Bill was up for the challenge.
The piano had serious damage internally and externally.
Here is that same piano after restoration. Carmi can happily play her piano in the comfort of her new home.
The piano may look brand new, but it means a lot to Carmi to know that it is still that same piano she played all those years before.
My baby grand piano was recently damaged in the Joplin tornado. The piano was filled with glass and debris and had many scratches. The Millers were quick to respond to the piano even when the insurance wasn't. They were patient, easy to work with, and responded to emails. The Millers worked hard to restore the piano and it looks fantastic! They did such a great job!
– Carmi Hinman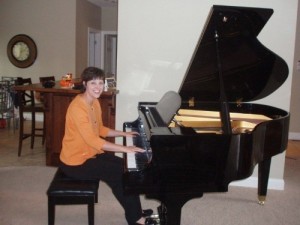 Ready to have your masterpiece repaired or restored?
Give us a call at 918.299.8863.
What our clients are saying about us:
"We found Bill Miller through an internet search because we were in the market for a grand piano and he was located within a couple of hours of our home. When we saw the love and craftsmanship he puts into his instruments, we did not look anywhere else.
In fact, we gave him an antique pump organ to restore in addition to a 1933 Steinway he was rebuilding for us. Both instruments are lovely and will give us many years of great use!" -MA
Ready to restore your's?
Comments or questions are welcome.