With Hardman, you know you are buying quality.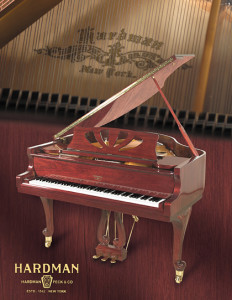 The Hardman Grand piano is crafted from choice hardwoods and wood veneers. With multiple coats of polyester resin to ensure beauty and durability, this piano will satisfy the demands of the pianist with its European scale design. Call us at (918)299-8863 for more details and pricing.
Soundboard: Spruce
Soundboard Area: 1519 square inches
Ribs: Spruce
Pinblock: 22 Ply Beech
Hammers: Royal George Hammer Felt
Action Parts: Maple
Action Type: Full Direct Blow
Plate: Fine Grain Cast Iron
Pedals: 3
Bass Strings: Solid Copper Windings
Dimensions: 40″H x 59″W x 4'10″
Weight: 5841bs.
Available Finishes: Ebony, Mahogany, Walnut and White Polish, Cherry Satin
Here are additional pictures of the Hardman Grand. Call us to set up an appointment to play this piano.
Interested? Call (918)299-8863
NHGP57