Enjoy one of the most sold Baldwin vertical piano in your home.
Quality, efficiency and perfect performance sync in harmony in this distinct studio upright. Rarely do you see such a combination of play ability and durability, designed to meet the needs of the most ambitious of today's versatile pianists. First introduced in 1939, the Baldwin 243 models are the company's best-selling of all-time, with nearly 500,000 units sold worldwide. The multi-ply pinblock is a variation of the one from Baldwin's legendary concert grand pianos, and is constructed from premium hard rock maple to deliver unmatched tuning stability. We can order this piano in different finishes. Call us today with any questions at (918)299-8863.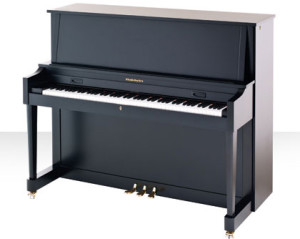 Dimensions: 47″ height; 58.5″ width; 24 11/16″ depth
Weight: 513 lbs. / 233 kg.
Hammers: 100% Virgin Wool
Outer Felt: 12 1/2
Inner Felt: 5
Strings: SynchroTone IITM made by Mapes
Speaking Length: 48″
Solid Copper Wound: Strings 1-54
Action: Full BlowTM-Direct Stealth Action
Material: Horn Beam Imported from Europe
Keys: European style
Keys Material: European Spruce
Key Length: 14 7/8
Key Shoes: Beech
Action Rail: Beech
KeyBed: Laminated Hardwood
Soundboard: Sitka Spruce
Area – Sq. In.: 1,980
Acoustic Bars: Yes
Bridge Material: Hard Rock Maple
Bridge Design: Precision Notched
Rib Material: Solid Sitka Spruce
Multiple Rib Radii: Yes
Hitch Pins: Yes
Fallboard: Locking fallboard
Back Frame: Spruce
Number of Posts: 5
Plate Cast Iron: Cast Iron, Sand Casted
Pinblock Material: 19 Multi-ply, Hard Rock Maple
Tuning Pins: Steel
Interested? Call (918)299-8863 for details.
NBVP31