Baldwin 190 Grand Piano
This new Baldwin 190 is an impressive mid-sized grand styled to fit where a full-sized grand might feel a little cramped, while still being equipped to deliver world renowned Baldwin tone in the process. This beautiful piano becomes the focal point of a medium-size room, while still maintaining full visual presence in a larger space, all the while delivering a sound worthy of the largest grand. This piano easily conveys the full, rich tone you'd expect from a much larger grand piano, and retains the full presence and prominence of having a wonderful Baldwin grand piano in your home. We are able to order this piano for you in different finishes. Call us at (918)299-8863 with any questions.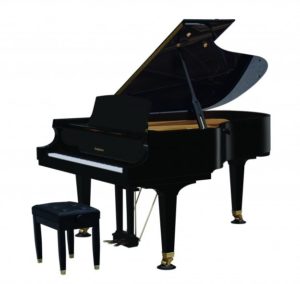 Strings: Roslau
Soundboard:Alaskan Sitka spruce
Bridge Material: Hard Maple
Bridge Design:Solid
Rib Material:Spruce
Pedals:Solid Brass
Key Material:Alaskan Sitka spruce with ebony wood
Action Rail:Beech
Pedal:Three
Pin block Material:17-ply laminated hard maple
Tuning Pins:Steel with about 0.45 percent carbon
Interested? Call (918)299-8863 for details.
NBGP27