Choose professional a build, choose a Baldwin.
With its timeless splendor and versatile sound and performance, this is the perfect piano for situations that require vertical dimensions, but desire grand-like tone. This new piano boasts nearly as much soundboard area as Baldwin's celebrated R1 grand, to provide maximum tonal depth with vertical convenience. Like all Baldwin pianos, the 125 is crafted from premium materials by professionals that produces the world's premier pianos. Whether you require a vertical piano for use in the studio, orchestra, school or home, this piano offers the professional tone, looks and quality that you expect from a Baldwin piano.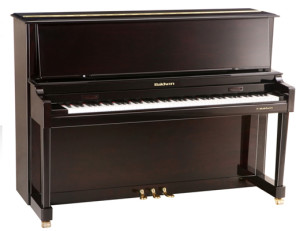 Size:1540x639x1250mm
Weight: 271KG
Hammer: Virgin Wool
Strings: Mapes or Roslau
Soundboard: Spruce Soundboard
Bridge Material: Hard Maple
Bridge Design: Solid
Rib Material: Spruce
Action Material: European Horn Beam
Key Material: Spruce
Action Rail: Beech
Pedal: Three
Back Frame: Spruce
Plate Cast Iron: Cast Iron
Pin block Material: 19-ply laminated hard maple
Tuning Pins:Steel with about 0.45 percent carbon
Interested? Call (918)299-8863 to order the Baldwin 125 today.
NBSP8