A vertical piano worthy of the name Baldwin.
Baldwin applies the same level of expertise and experience to constructing a compact vertical piano for home, school or studio as it does to building its acclaimed full-sized grand pianos for the concert stage. The new BH122 (which replaces the BD122) benefits from all the craftsmanship behind the world's greatest pianos, as well as the top-quality materials and tone woods that are standard from Baldwin, at a price that makes it available to any budget. Offering optimum play ability, durability and tone, the BH122 offers impressive value in a studio-upright piano that's equally suited for professional performance as it is to home use. Order this piano in a different finish, call us with any questions at (918)299-8863.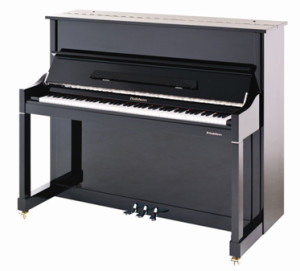 Size:1504x634x1220mm
Weight: 246KG
Hammer:Virgin Wool
Strings: Mapes or Roslau
Soundboard: Spruce Soundboard
Bridge Material: Beech and Hard Maple
Bridge Design: 2-ply Solid
Rib Material: Spruce
Action Material: European Horn Beam
Interested? Call (918)299-8863 for details.
NBVP35